Center on Global Health Architecture
What's New
About us
Who we are
Mitsubishi UFJ Research and Consulting (MURC) is a comprehensive think tank/consulting arm of the Mitsubishi UFJ Financial Group (the MUFG Group, a universal banking group that represents Japan) and based on three major cities in Japan.
We started to organize one action-oriented public-private partnerships (PPP) consortium "Access to Health" on "Global Health" in 2016. In this consortium, we will exchange information and knowledge and have dialogue to improve and solve the social issues for our global society. Now our consortium has about 100 members from various sectors.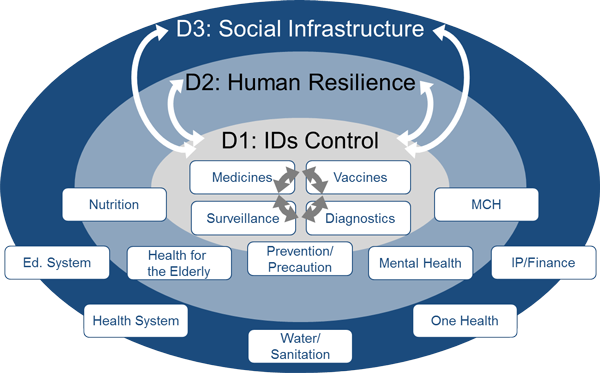 What we think
We respect the global trend and activities on global health. However, we have a thought that we need to consider the importance to handle the issue with more comprehensive approach.
Our target issues are broad. At this moment, we focus more on infectious diseases with a value "we get along/coexist with Infectious Diseases by 2030″. However we are taking a comprehensive approach to improve various health issues, considering nutritious problems, NCDs(non-communicable diseases), health system, and UHC(universal health coverage) as well.
Under this value, even in the case of OUTBREAK of infectious diseases or to face with AMR issues in an ordinary situation, we need to think about how we can/should invest R&D for innovative and adequate products and deliver them to the market, improve the health system and health-related infrastructure, and contribute to our workforce development/ capacity building with cultural respect.
In addition to that, we also respect the advent and installation of new technologies such as AI/ML, drone, blockchain and how they affect the premise of global health.
Through Dialogue and Co-creation, we would like to contribute to the global society, improving the global issues, global health.
Activities
For 2016 & 2017, we have 4 pillars in our activities: "Closed Seminars," "Independent Research," "Action-oriented Working Group," "Networking with Global Partners". We are expecting the synergy of the 4 activities and aim to establish a "Global Health Platform" from Japan together with Global Society.
Now we have more than 100 members from various entities: United Nations agencies/Partnerships, Japanese Governmental agencies, International NGOs, Private Companies, Academia, Funding Agencies, etc.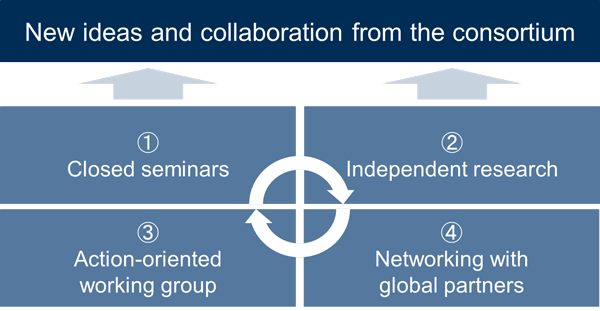 Publication
Event host / Co-host / As a partner
(in partnership with) Chatham House, Centre on Global Health Security, Harnessing New Technologies for Global Health Security, March 27 2018 @ London, UK: https://www.chathamhouse.org/event/harnessing-new-technologies-global-health-security
(Co-host) British Embassy Tokyo, NESTA, Rapid diagnostic tests to reduce unnecessary use of antibiotics and contribute to objectives of Universal Health Care Coverage: An interactive seminar in the run up to the UHC Summit Tokyo , https://www.uhc2030.org/news-events/uhc-forum-2017-side-events/
(in partnership with) Chatham House, Centre on Global Health Security, The Role of the Private Sector in Global Health Security, September 28 2017 @ London, UK: https://www.chathamhouse.org/event/role-private-sector-global-health-security
Attendance History
MIT, The Solve Challenge Finals in New York City, September 17 2017 @ NY, USA
The Abraaj Group/ Merrill Lynch/ Global Impact Investing Network, Forum on Scaling Impact Investment, September 18 2017 @ NY, USA
United Nations Global Compact, UN Private Sector Forum 2017- Financing the 2030 Agenda, September 18 2017 @ NY, USA
International Conference on Sustainable Development 2017, September 19 2017 @ NY, USA
Stop TB Partnership & WHO, United to End TB: A Global Response to a Global Emergency, September 19 2017 @ NY, USA
UN Global Compact Leaders Summit 2017, September 21 2017 @ NY, USA
UN Global Compact, Health is Everyone's Business Partner Workshop, September 21 2017 @ NY, USA
The 49th Asia-Pacific Academic Consortium for Public Health (APACPH), August 16-19 2017 @ Seoul, Republic of Korea
Gavi, the Vaccine Alliance, INFUSE Workshop, July 18-19 2017 @ Barcelona, Spain
The 15th Meeting of WHO Patient Safety Programme & Industry Representatives (POPS-Hand Hygiene), June 26-27 2017 @ Geneva, Switzerland
The 4th International Consortium for Prevention & Infection Control (ICPIC) Conference 2017, 20-23 June 2017 @ Geneva, Switzerland
The 44th Association for Professionals in Infection Control and Epidemiology (APIC) Annual Conference 2017, 14-16 June 2017 @ Portland, USA
Stop TB Partnership, Coordinating Board Meeting, 16-18 May 2017 @ Berlin, Germany
Partnership for Dengue Control (PDC), Workshop "New and Innovative Approaches to Laboratory Diagnosis of Zika, Dengue and other Arboviruses", 2-4 May, 2017 @ Annecy, France
UN Global Compact Making Global Goals Local Business – India, 26-27 April, 2017 @ New Delhi, India
Pan African Harmonization Working Party (PAHWP), The 4th African Regulatory Forum on Medical Diagnostics, 3-4 Dec 2016 @ Cape Town, South Africa
Contact
Center on Global Health Architecture
+81-(0)3-6733-1098
5-11-2, Toranomon, Minato-ku, Tokyo, 105-8501, Japan
E-Mail:ath-ch@murc.jp