[News Letter] Establish WELCO Lab for Global Health, an initiative that aims to solve problems in the field of global health
- Encourage collaboration among diverse companies and create new solutions -
Please see the page for Japanese version.
We are pleased to announce that Mitsubishi UFJ Research and Consulting Co., Ltd. (Headquartered in Tokyo, Japan, President: Satoshi Murabayashi, also "MURC") has launched a new initiative, WELCO Lab for Global Health, to promote collaboration among Japanese companies in the field of global health. The goal is to create new solutions that contribute to solving global health issues by stimulating utilization of innovative technologies and cross-sector collaboration. In addition, by collectively disseminating new initiatives by companies, we will build social momentum for this field.
1.Background
Many Japanese companies are contributing to solving various health problems in low- and middle-income countries, such as infectious diseases, nutritional issues, and lifestyle-related diseases, by taking advantage of their strengths in multiple activities. The Japanese government continues to make international contributions by emphasizing the importance of achieving Universal Health Coverage (UHC) and expressing its support at major international conferences. However, the health sector in Japan's Official Development Assistance (ODA) has accounted for about 5% of the total[1], which is not necessarily high by international standards. Besides, initiatives in this field by private sector have also tended to be limited to some specific sectors.
At the same time, the utilization of digital technologies such as IoT and AI has been gaining attention in the global health domain over the past few years, while they have become a source of innovation in all fields. Going forward, the participation of a wide variety of players from different sectors is expected to bring innovative approaches to solving problems in this area.
With this background, WELCO Lab was established to encourage more diverse Japanese companies to play an active part in the global health field.
2.Overviewd
WELCO Lab is an initiative managed by MURC with support from the Bill & Melinda Gates Foundation[2]. The Center on Global Health Architecture, which was established at MURC, will serve as its administrative office.
The main qualifications for participation in WELCO Lab are that the company is a Japanese company and that it aims to create a new business and solution to solve global health issues and is willing to communicate it as a "commitment". As of now, 13 companies ranging from start-ups to publicly-traded companies in different fields beyond the healthcare sector are participating, and we will continue to invite more companies.
WELCO Lab will disseminate not the results of past activities by companies, but rather future business ideas as commitments (declarations by a company about its new business or solution) through official website and various conferences/events in the global health field. By utilizing such information channels, we will promote connection, collaboration and co-creation among companies toward new businesses.
Mission, Vision, Value and Concept of WELCO Lab
Mission
Become a hub for sharing and disseminating information and building networks in the global health field
Vision
– Create new businesses and solutions to tackle global health challenges
– Encourage the participation of diverse players and build social momentum
Value
Connect Well, Collaborate Well, Co-create Well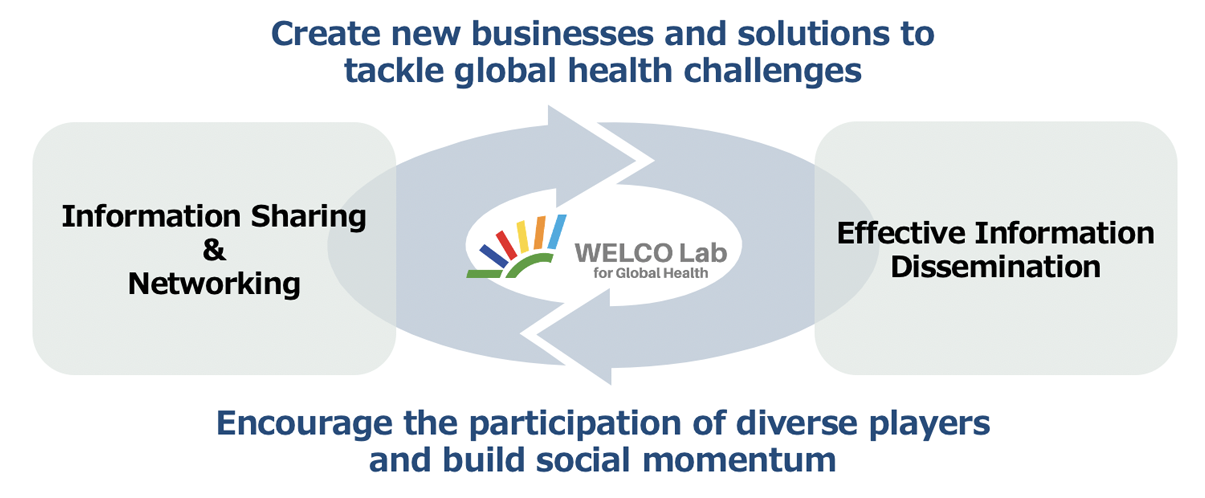 For more information on WELCO Lab and the commitments of participating companies, please visit the official website:https://welcolab.org
[1] Japan Tracker, https://japan-tracker.org/en/
[2] Guided by the belief that every life has equal value, the Bill & Melinda Gates Foundation works to help all people lead healthy, productive lives. In developing countries, it focuses on improving people's health and giving them the chance to lift themselves out of hunger and extreme poverty. Based in Seattle, Washington, the foundation is led by CEO Mark Suzman under the direction of Bill and Melinda Gates and Warren Buffett. The Foundation presence in Japan was established in Tokyo in 2017.
For more information
Center on Global Health Architecture, Mitsubishi UFJ Research and Consulting, Co., Ltd.
5-11-2 Toranomon, Minato-ku, Tokyo, 105-8501, Japan
E-mail:welcolab@murc.jp
Contact Persons:Yu Hasegawa, Miyako Sato and Tomoko Kunimitsu
Media contacts
Corporate Communications Dept, Mitsubishi UFJ Research and Consulting, Co., Ltd.
E-mail:info@murc.jp